Cardio Yoga™ Saturday
Cardio Yoga™
Sessions:
4
Dates:
4/17/2021 to 5/8/2021
Discounts & Other Fees:
$5 Resident Discount

Location:
Zoom - FCAAE Secure Class Link
Instructor:
All participants must be 18 years of age or older.
Meeting Times
Saturday 8:30 AM - 9:30 AM
---
Description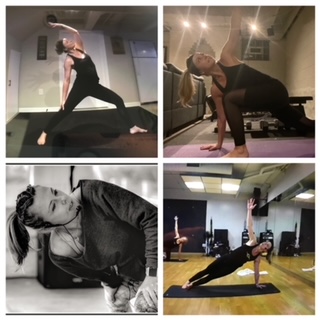 NEW Saturday class!
Live Zoom video class - bring your questions! Class will be recorded by FCAAE so students can review and practice. Recording will be available for one week.

Do you enjoy the relaxation benefits of yoga but also want more intensity? Join Tabitha and learn to use bodyweight exercises to build your strength and cardiovascular fitness while simultaneously using yoga, including your breath, to focus on the present, to build the mind/body connection and to incorporate movements that improve flexibility.
Cardio Yoga™ is the perfect combination of yoga-inspired movements at a quicker pace and with continuous flow to engage more muscles and challenge your cardiovascular system. Affectionately called "yoga bootcamp," Cardio Yoga™ is more focused on Vinyasa yoga; you move through poses to elevate your heart rate rather than holding extended poses.
Bodyweight cardio exercises that you can expect include:
lunges
squats
planks
push ups
Yoga poses that you can expect include:
warrior poses
crescent and low lunges
cat/cow
side planks
Bonus: Class also focuses on barefoot fitness, teaching specific movements which help build stronger feet and ankles. Strengthening your feet and ankles can help prevent injury in other physical activities as well as keep you safe in everyday movements.
Additional Notes
Your password encoded, secure FCAAE Zoom Class link is included in this confirmation email.
Your FCAAE Zoom Class link remains the same for all weeks of your class.
Join your class with one click of this link. It's really that easy!
Register Offline