Women's At Home Fitness/Strength Training Mondays
Women's At Home Fitness/Strength Training
Sessions:
9
Dates:
3/15/2021 to 5/10/2021
Discounts & Other Fees:
$5 Resident Discount

Location:
Zoom - FCAAE Secure Class Link
Instructor:
All participants must be 18 years of age or older.
Meeting Times
---
Description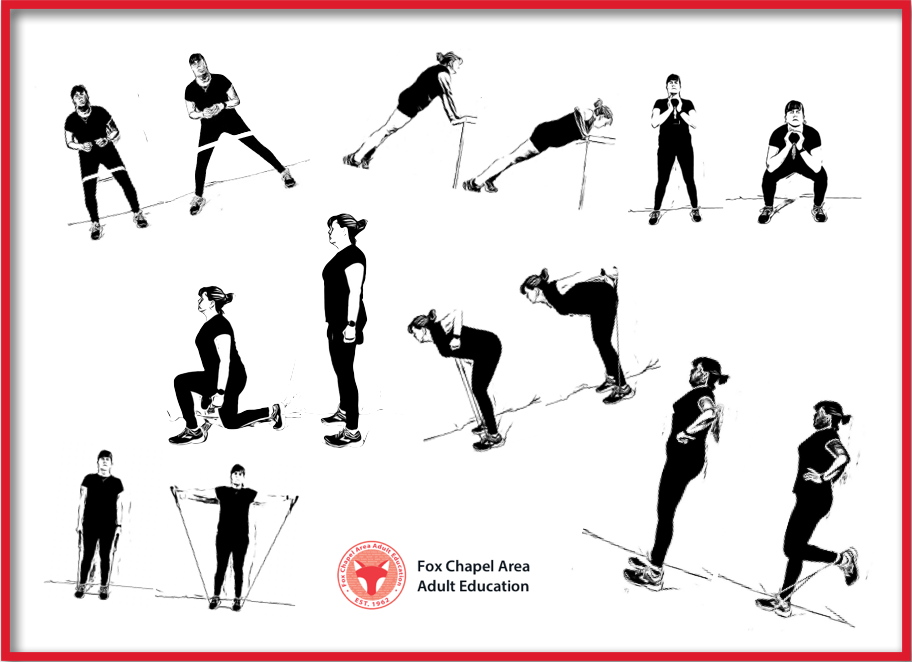 Live Zoom video classes for first 6 weeks. Final 3 weeks will be all new workouts but in recorded format only.
Live classes will be recorded by FCAAE so students can review and practice throughout the week.

Using common household materials, resistance bands and/or dumbbells, follow Beth on a guided full body workout.
A progression of exercises will work all of your major muscle groups and get your heart rate moving. There are adaptations for every level of fitness. Majority of the class is done standing - occasionally there are one or two floor exercises but modifications are available.
Additional Notes
Your password encoded, secure FCAAE Zoom Class link is included in this confirmation email.
Your FCAAE Zoom Class link remains the same for all weeks of your class.
Join your class with one click of this link. It's really that easy!
Before class begins, have these items handy:
weights or substitute a gallon jug filled with liquid (8 lbs) or half-gallon filled jug (4 lbs)
resistance bands or substitute a bungee cord or bungee leash
kettlebell or dumbbell or substitute a cloth grocery bag/small duffel bag/large purse/medium bucket + canned goods or books
step stool or aerobic step
water
a hand towel
The first 6 classes will be taught live (through 4/19/21). The remaining 3 weeks will be new workouts but pre-recorded only.
Register Offline