Studio Time with Martha Ball Thursday
Studio Time with Martha Ball
Sessions:
7
Dates:
3/18/2021 to 4/29/2021
Discounts & Other Fees:
$5 Resident Discount

Location:
Zoom - FCAAE Secure Class Link
Instructor:
All participants must be 18 years of age or older.
Meeting Times
Thursday 6:30 PM - 8:30 PM
---
Description
Prerequisite: You must be a current or former student of Martha Ball.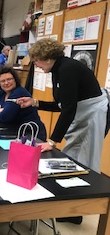 Live Zoom video class - bring your questions.
Receive personalized guidance from Martha while enjoying studio time with fellow oil painters.
During each 2 hour Thursday session, you have plenty of time to paint, ask questions and listen to impromptu lessons from Martha that arise based on that evening's conversations.
Class size limited!
Looking for private consultation time with Martha? Email director@fcaae.org or call 412-696-1410 to discuss available packages.
Additional Notes
Your password encoded, secure FCAAE Zoom Class link is included in this confirmation email.
Your FCAAE Zoom Class link remains the same for all weeks of your class.
Join your class with one click of this link. It's really that easy!
Register Offline