Cocktail Creations F20
Cocktail Creations
Sessions:
1
Dates:
10/9/2020
Location:
Zoom - FCAAE Secure Class Link
Instructor:
All participants must be 21 years of age or older.
Meeting Times
---
Description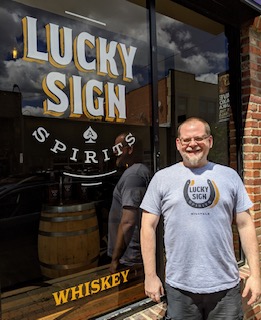 Live Zoom video class - bring your questions!
Enjoy a fun evening with Christian Kahle, a co-owner of Lucky Sign Spirits. This newly opened distillery in Millvale creates their own whiskeys, gin, cordials, amaros and experimental spirits. Make and taste a variety of whiskey and gin cocktails using only minimal ingredients.
Experience an evolution of flavor!
First we will create two basic cocktails - one using gin and the other whiskey. After sipping and exploring these tastes, follow Christian's lead and use simple ingredients to modify and instantly change the taste of your cocktail.
Modifiers matter!
Additional Notes
A password encoded, secure FCAAE Zoom Class link will be included in your FCAAE confirmation email.
Please keep this email handy so you can join your class with one click of the link. It's really that easy!
Ingredients to have on hand:
Whiskey
Gin
Soda water and/or ginger ale
Tonic water
4-6 glasses
A lemon, a lime and/or some fruit juice
Orange bitters (optional)
Use your favorite whiskey and gin - or - call Lucky Sign Spirits at 412-436-9413 and place an order for contactless pickup at 215 North Avenue, Millvale, PA 15209.
Register Offline