Buddhist Meditation 011
Buddhist Meditation
Sessions:
3
Dates:
3/5/2019 to 5/7/2019
Discounts & Other Fees:
$5 Resident Discount

Meeting Times
Tuesday 6:30 PM - 8:00 PM
---
Description
Open to ages 15+ when enrolled with an adult.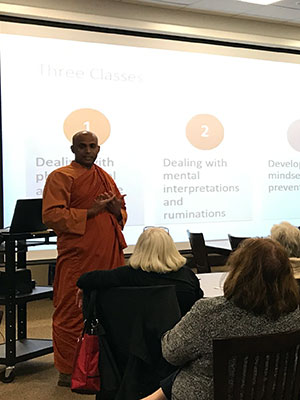 Join a Buddhist monk on the first Tuesday of each month and learn the philosophy, basic techniques and many varieties of Buddhist meditation. There are many things in life beyond our control. This class will teach and provide guided practice on how to meditate to transform and change your mind, cultivate mental balance and clarity and better manage stress.
Additional Notes
Class dates are March 5, April 2, and May 7.
Fox Chapel Area High School, 611 Field Club Road, Pittsburgh, PA 15238.
Parking: Gate D is closest lot.

Fox Chapel Road → Field Club Road → 6th left (4th on HS campus)
Powers Run Road → Field Club Road → 1st right

Enter at exterior doors behind the fox statue - Activities Entrance.
Note: Registration has ended
Register Offline